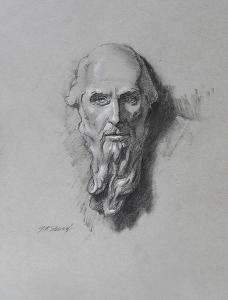 A well known professional artist with years of experience doing both scenic and portrait art for the entertainment industry will be speaking at the North Valley Art League in Redding, California. He has done projects for television, motion pictures, and stage productions at The Dorothy Chandler Pavillion, Mark Taper Forum and San Diego Opera Company.

His portraits include screen stars like Bette Davis, Brian Keith, Henry Winkler, Norman Lloyd, Henry Winkler and James Brolin. Prominent collectors of his work have included President Richard Nixon, actor John Wayne, and actor and film director Leo Penn.

He has also had a simultaneous music career playing piano, writing music, and currently has 5 CDs available on iTunes, Amazon and others, using the nom de plume J. Norman Stewart. He is listed in numerous Who's Who books and is a highly respected figure in the art world.

We have the good fortune of seeing him bring a charcoal portrait to life at our...